The POD (Preventive Oral Device)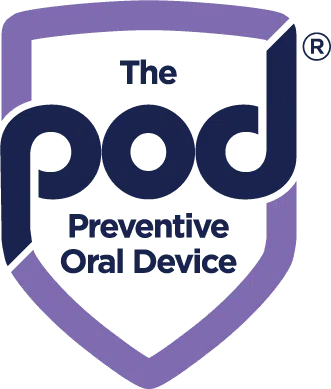 The POD® featuring Unilateral BiteBlock Technology®
The POD™ is a custom fit, laboratory fabricated intraoral splint designed to aid in treating bruxism and TMJ Dysfunction.
Worn during sleep, the device serves to protect the teeth and restorations from the destructive forces of clenching and grinding. It also helps to alleviate TMJ/TMD, headaches, and facial muscle pain.
The unique design provides more space for the tongue while limiting the amount of contact points.
Limiting contacts reduces muscular activity. Hence it reduces muscle tension and helps alleviate associated TMJ pain symptoms and headaches.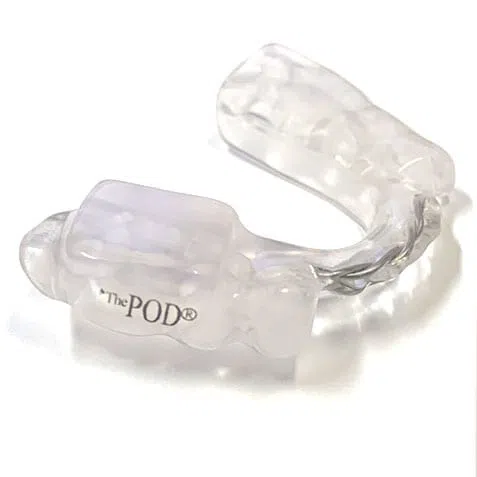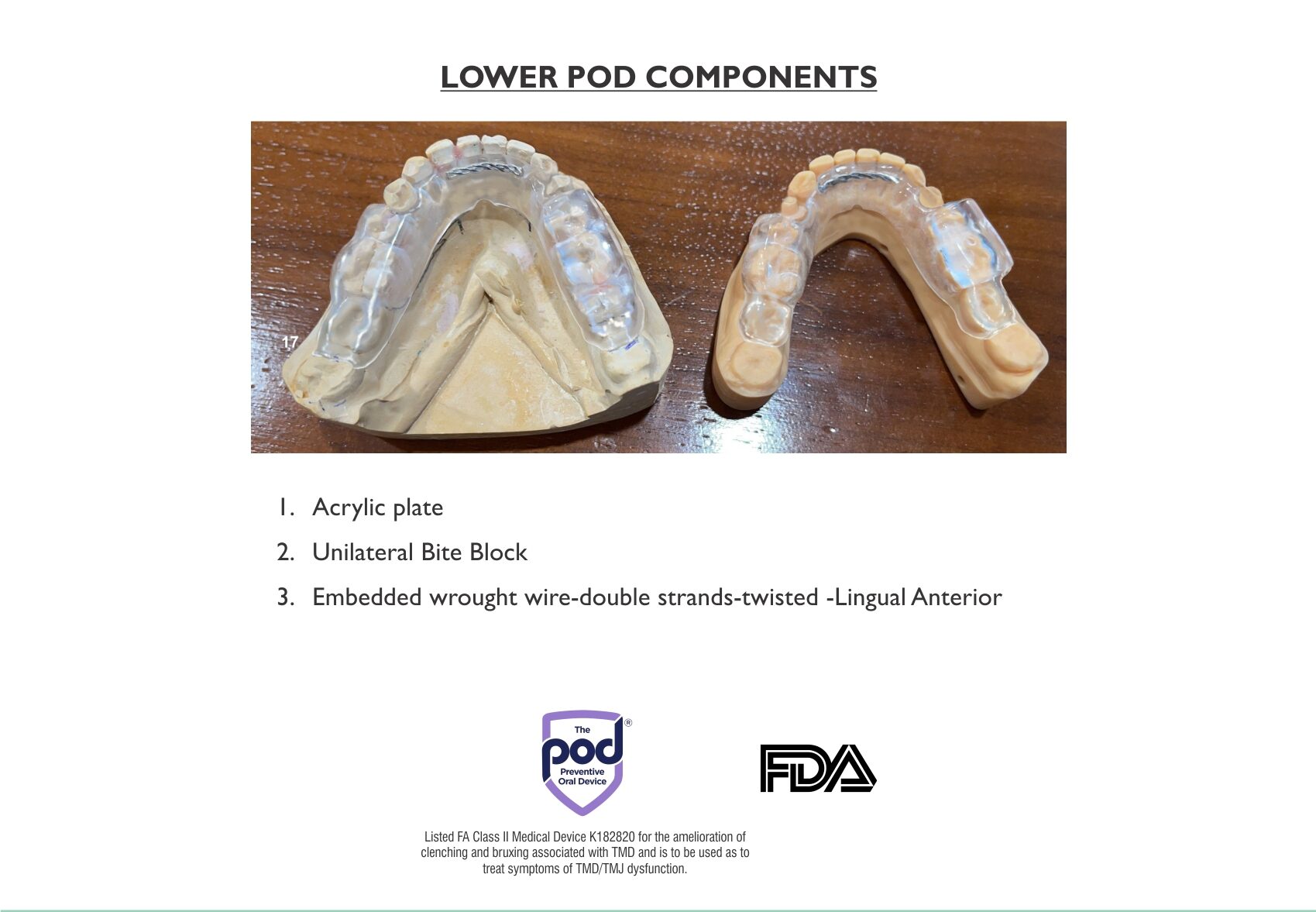 Routine Cleaning of Your POD® Is a Must!
While your appliance is in use it will buildup plaque and tartar, collecting bacteria. 
The oral microbiome (bacteria and fungi)such as Streptococci, Actinomyces, FusobacteriumCryptococcus and Candida build-up can contribute to infections and health complications by compromising the immune system. It will also give an odd taste and pungent smell. 
Taking good care of an appliance keeps your breath fresh and it will also contribute to good health. Most appliances may have following components:
Wire (Surgical grade Stainless Steel)
Polished Acrylic that is molded to fit your mouth

Clear Plastic
Rinse thoroughly to remove all debris (plaque and food particles) before it dries and hardens into a very difficult to remove crust
Use lukewarm water only
Scrub gently in a circular motion
Use a soft bristle toothbrush or denture brush
Clean after every meal, morning and before bedtime
Use a gentle cleanser, such as dish soap
Use Cotton swabs (Q-tips), moistened with lukewarm soapy water to clean deep groves and ridges
Soaking the appliance using denture cleanser tablets (polydent or others) is also effective to loosen up all debris
To remove a sticky substance: After using a brush and soap, the sticky substance may be removed by placing the appliance in the freezer for about 15-20 minutes. Once the sticky substance hardens, cleanse it with a brush and mild soap again
To clean hard crust or hardened plaque from the appliance, soak it in equal amount of vinegar and lukewarm water for 15-20 minutes and scrub gently in a circular motion using gentle cleanser. If needed, repeat the soaking procedures a few times
How NOT to Clean Your POD®
Do not use extreme hot or boiling water, heat will cause your appliance to warp
Do not put your appliance through a hot sterilization process, it will deform and melt the plastic
To avoid scratches, do not use an abrasive cleanser, soap or toothpaste
Do not keep your appliance around your pets, dogs especially love to chew on your appliance
Monday – 6:30 am – 5:00 pm
Tuesday – 6:30 am – 5:00 pm
Wednesday – 6:30 am – 5:00 pm
Thursday – 6:30 am – 5:00 pm
Friday – 6:30 am – 5:00 pm